Wearing personal protective equipment in an environment that possesses risks to health and injury to body is a must. For people, who think of maintaining good health by staying safe in all kinds of industrial environments, we, Mallcom India Ltd., bring forth them the most dependable PPE. We are appreciated as a manufacturer of Face Mask, Leather Gloves, Occupational Wear, Safety Gum Boots, Full Safety Harness and many more personal protection items. We have a wide line of Head, Hand, Feet, Body and Fall Protection Products available in standard dimensions, shapes and designs. Our offerings are served in 6 continents and over 50 countries through a line of reliable agents. Every item that is produced at our company is thoroughly inspected for perfection in design, structure, appearance and performance at our own well-developed lab. Making great amount of investment in this lab, we have now become customers preferred destination to avail not solely standard but also customized personal protection products.
Our Vision
We are working with complete dedication to become the most preferred partner to customers by introducing a well-designed and highly protective line of
Face Mask,
Full Safety Harness,
Occupational Wear,
Leather Gloves, etc.,
at very reasonable prices.
Our Mission
Our mission is to promote safety in all kinds of working environments by creating dependable quality PPE.
Our Values
Commitment: We focus on staying committed to every promise we make with our customers, employees and associates.
Ownership: We believe in supporting a culture of growth, honesty, innovation and excellence and provide our experts all the opportunities for growth at our company.
Integrity: We maintain full honesty with our esteemed clients while dealing and ensure our partnership provides them lasting benefits.
Corporate Social Responsibility
Our company has been wise in taking initiatives for the betterment of the society on a large level. We have on our CSR committee Mr. Ajay Kumar Mall (Chairperson), Mr. Giriraj Kumar Mall and Dr. Barsha Khattry, who make right decisions and invest in a judiciously manner to make a great impact in Olympic Sports, Education and Renewable Energy.
Impact Generated
We have installed a great number of solar panels to support in the production of leather items.
We have supported Mr. Shiva Keshavan, an Asian record holder and a Luger from India to perform in 6th Winter Olympics in the year 2018 in Pyeongchang.
We have provided sponsorship in primary education of underprivileged children for more than three years in West Bengal, India.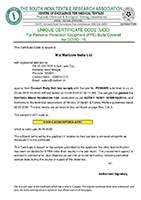 Accreditation
Read More